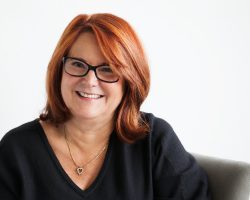 Who knew helping to manage her mom's clothing store would give her the skill to start her own business years later. Judy Heft began working for her mom as soon as she was old enough. In high school she was in charge when her parents went on vacations and she took over managing the store when she graduated college. "I did everything from merchandising to bookkeeping. It was a hands-on education."
When she finally closed the shop, Judy wasn't sure what she wanted to do next. "A friend's painter knew I could do bookkeeping and reached out." He became Judy's first customer and she realized that other small businesses might need the skill she has learned running her own business. Through some smart networking and word of mouth, her business grew. "I contacted local accountants who needed back up and started a whole other income stream.
Then another group came calling. Judy's friend had elderly parents who's bills were piling up. "She needed someone to go through a large amount of mail and set up a system to get bills paid in a timely manner for her parents." As on-line bill pay became more commonplace, elderly people needed help to set up the process. It became one of Judy's niche services.


Another referral was to a woman going through a divorce. Judy says, "She was so overwhelmed she would just take her mail, bills and checks included, and pile it all into a bag." Judith went through the mail and discovered a five figure check that needed to be deposited. She got the woman caught up and organized, setting up a system for paying bills and filing paperwork. "it was incredibly satisfying to help this woman get organized and back to functioning after a major life change."
Judy says she works with younger couples too. "They travel and may have multiple homes. I work with them to oversee their affairs including taxes, domestic payroll, bills and household management bookkeeping." Judy can set up everything and send regular reports. "I here to make my clients' lives easier and leave them free to work and play without worrying about the paperwork."
"Managing my own retail store gave me so many skills not only bookkeeping. I learned how to deal with people." Judy finds it extremely rewarding to help young and old alike get a handle on their financial commitments. On one particular job, she caught a discrepancy that would have defrauded a family out of $180,000. "I have a great sense of pride in what I do and I wish my mom were here to see me and the business experience that she gave me."
Judy is a grandmother now and her own daughter says, "Mom, you're the role model I want for my daughters. In you they see how you can have a career and a family." "That's the best feeling ever," Judy says.
VentureMom Tip
Offer your skills to small businesses and niche markets to build your clientele.
Participated in ESTATE PLANNING INSURANCE INVESTMENT & TAX